Sponsor/Donate
Whether it's families cheering in the crowd or women training to skate, we love to bring the sport of roller derby to our community. Sponsors help us cover the costs of rink rental, equipment, travel and uniforms.
Why Become an SCRD Sponsor?
Roller derby is a real sport, with real contact. Our skaters train to give and take hard hits. Games attract audiences from across southern California and beyond. Advertising with South Coast Roller Derby through sponsorship aligns your company with our league.
Roller derby is fast growing and highly visible. Passionate fans come from varied backgrounds.
Roller derby is reaching more fans than ever before.
Sponsorship levels are affordable to smaller business compared to sponsorship of other entertainment or sporting events.
Your business can expand brand awareness through SCRD at our bouts, on our website, via our Facebook and through our fundraisers and events. To learn more about the benefits and levels of sponsorship, see our SCRD Sponsorship Package.
Sponsorship Contact: southcoastrollerderby@gmail.com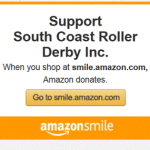 Please help support our league by using our organization Amazon Smile link (https://smile.amazon.com/ch/27-0349751). Your purchases will support our league and help us support our local community!