Join Us
Are you interested in joining the fastest growing sport in the nation? We'd love to meet you. Our New Skater Boot Camp begins soon. Send us an email at SCRDPR@gmail.com.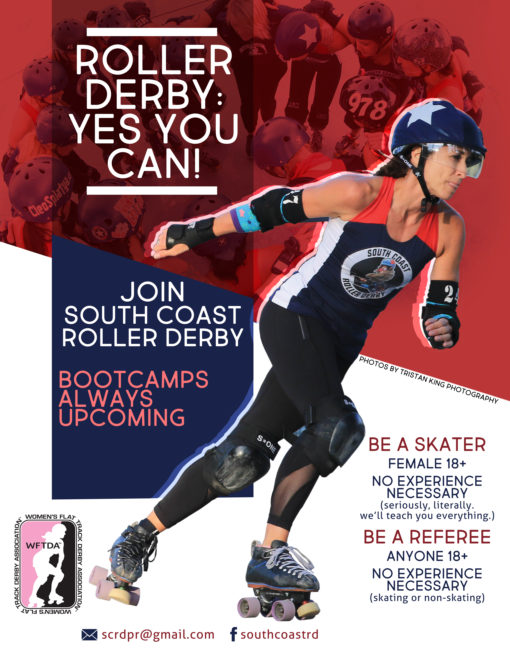 Do I need experience to join?
No experience is necessary. All women 18+ are welcome—regardless of age, size, or body type. We'll teach you everything you need to know.
If I am interested in getting started as a new skater, when can I join?
Our New Skater Bootcamp starts every 12 weeks. It's always a good time to reach out to us at SCRDpr@gmail.com to learn more about when our next bootcamp is scheduled.
If I am interested in transferring from my current league to SCRD, what do I do?
Please email us at SCRDpr@gmail.com.
I don't know much about Roller Derby. How do I learn more?
Come to a bout, visit us on Facebook or send us an email. We're passionate about this sport. We're happy to answer all of your questions.
Here's a great one-minute overview of roller derby:
What will I need for New Skater Boot Camp?
Boot Camp Fees
Personal Health Insurance
Quad Skates, helmet, wrist guards, elbow pads, knee pads, and mouthguard
What are some other ways to get involved with South Coast Roller Derby?
We welcome men and women as referees, non-skating officials and members of our Events Team. Please contact us at SCRDPR@gmail.com to learn more.
We look forward to seeing you on the track!