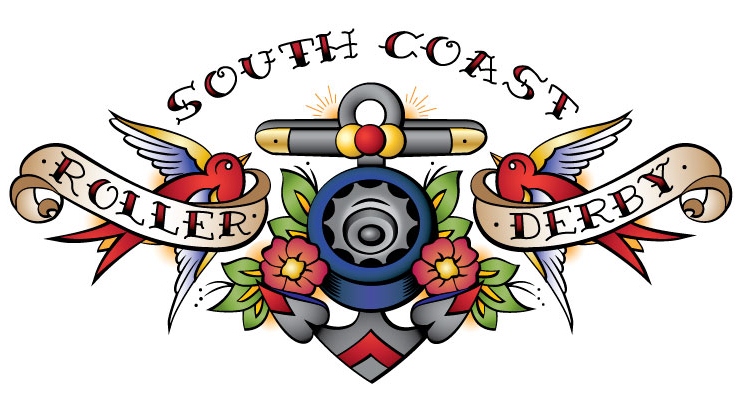 Become a Sponsor of SCRD
Be a part of the Roller Derby Revolution! (Click here for Sponsor Information)
Thank you for your interest in sponsoring SoCal Derby'sm Lagunatics 2013 season. South
Coast Roller Derby (SCRD) was established June of 2009 in San Clemente, CA to serve the
South Orange County area and merged with our San Diego league June 2014. We are a Non-Profit,
Skater Operated organization dedicated to the sport of roller derby. We provide the South
Coast with an alternative source of sports entertainment and support our local community
with volunteer efforts that benefit women and children.
Real Women, Real Sport!
Roller derby is a real sport, with real contact. All of our skaters train hard to get in shape
and learn how to give hard hits and take hard hits. We follow rules set forth by the
Women's Flat Track Derby Association (WFTDA). Our bouts (games) have no predetermined
outcome, and there are no staged antics or fake hits.
Roller Derby's Outreach
Advertising with South Coast Roller Derby through sponsorship aligns your company with
ours.
Fast growing, highly visible, full contact; fans feel very passionate about flat track
roller derby. Fans defy stereotypes; from punk rockers to soccer moms, our
advertising reaches them all
The sport of roller derby is reaching more fans than ever before thanks to Drew
Barrymore's 2009 blockbuster roller derby movie, Whip-It!
South Coast Roller Derby supports our community by focusing on partnerships and
community building activities. We are a grass roots, all-volunteer, Non-Profit
organization.
Sponsorship levels are affordable to smaller business compared to sponsorship of
other entertainment or sporting events.
Sponsorship Contact: southcoastrollerderby@gmail.com
Opportunities, Perks, Terms:
We are currently seeking support from our local businesses in order to continue our
community involvement programs as well as to fund our 2013 season. We are
confident that your sponsorship of the Lagunatics will provide your business valuable exposure to
a difficult to reach market group, not to mention the opportunity to be a part of one of
the biggest trends in decades!